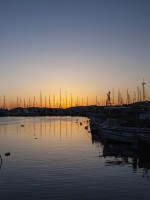 The "Port of Alghero – Consortium for Internal Port Services" manages two quays, named "Banchina Dogana" and "Banchina Sanità", for the transit of boats measuring up to 50 metres in length. The overall quay length is 150 linear metres. The quays are sheltered by the walls of the old town.

Pleasure-boat owners in transit can access the following services and facilities:

a) Warm welcome to the Port with dinghy and guide up to the mooring.
b) Assistance by dinghy with the operations of mooring and unmooring.
c) Daytime supervision.
d) Water supply.
e) Power (single/three-phase) max 63 Amp 100 KW.
f) Technical/tourist information.
g) On-the-ground support services.
h) Postal service.
i) VHF Channel 9.
l) Toilets and showers.
Moreover, in the vicinity, in partnership with organisations with which the Consortium has special agreements in place, you can also access the following services/facilities:

Boat assistance, blacksmith, electrician, boat transport, boatyard services and dry berthing, crane for launching and towing, sailmaker, paperwork support, boat inspections, laundry service.