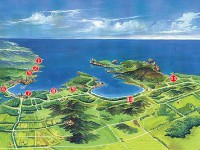 In the 80 km of coastline skirting Alghero, there are numerous wonderful beaches and low-level rocks.

Here are some details to help you make up your mind about which ones to visit.

1) La Speranza – often windswept and with large waves that delight surfers and swimmers.
2) Il Burantin – easily reached by sea, relatively empty
3) Le Vasche – natural swimming pools amid the rocks.
4) Il Canal de l'Oma Molt – outlet of the Rio Salondra with soft, cool water.
5) Cala Bona – a small bay with crystal-clear water.
6) San Giovanni and Maria Pia – the beaches that link Alghero to the suburb of Fertilia.
7) Punta Negra – the beach next to the village of Giuliana di Fertilia
8) Le Bombarde – always mobbed with young people
9) Il Lazzaretto – flanked by numerous bays with light-coloured sand and crystal-clear water.
10) Mugoni – skirted by a thick pine forest.
11) Porticciolo – loomed over by a Spanish watchtower.
12) Porto Ferro – with its reddish sand, this is a favourite haunt of surfers.